Afghan Women(Page 1 of 1)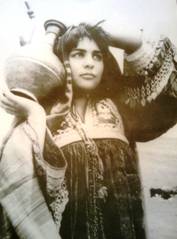 Figure 1 Afghan Nomad Woman - buy a set of ten postcards for £5
The dawn of freedom emerged in Afghanistan after the US liberation. All was to be wonderful for the women of Afghanistan, their defenders included the Mrs Clinton and Mrs Bush. The Taliban was demonised and we were told that the Taliban did not allow girls to go to school. Nonsense says James Fergusson author of "The Taliban", in Kabul there is a school where 7,000 girls went to school during Taliban rule. The problem was that the Taliban did not have enough separate girls' schools to educate girls and the international community engaged in condemnation, but not financial support to fund projects to support females. So basically the Taliban did not allow women's co-education with men, nor did they allow men to teach women. Why was this, well, it, that "it" being the reason is called sexual exploitation and harassment of women. Now that women have been liberated by the US, it appears certain Professors at Kabul University seem to be taking liberties with their students and practising experiments in human biology with their unwilling female students! These Professors could do with a crash course in human rights law or professional ethics (see below The Times "Professors Force Students into Sex").

Today in Afghanistan women undergo self immolation to escape domestic violence and men who murder their more famous and successful spouses do not get punished, as Afghan women found when the famous published Herati Poet Nadia Anjuman was murdered by her librarian husband see: Time, UK.
Also read :The Sleeping Buddha: The Story of Afghanistan through the Eyes of one Family by Hamida Ghafour a journalist for The Daily Telegraph who was of Afghan origin but decided not to reveal her Afghan origins whilst working in Afghanistan because to do so would be to potentially risk kidnapping by a warlord who would take her as his bride.
Women at Kabul University claim that they have been preyed on by their teachers, in some cases even being blackmailed into having sex with them
Click here for details
FURTHER READING:
1

Delloye Isabel

Women of Afghanistan

Hardback in dw 2003 Ruminator Books USA 169 pages fine condition. The author interviews a range of Afghan women to provide an insight into their diverse lives.

£14

Fergusson, James

The Taliban

2010 signed copy detailing what Taliban rule was like in Kabul by an objective journalist who covered Afghanistan from 1994 onwards. Hardback in Dust wrapper.                                          

£35

3

Gauhari, Farooka Organisation

Searching for Saleem: An Afghan woman's odyssey

Hardback in dust wrapper.267 pages 1996 first edition. Account of how the Saur revolution effected this family. The husband was a US educated airforce pilot who disappeared on the day of the coup. The author searched for her husband without success and did not even manage to locate his body. The author fled to India and on to the US where she had studied in the 1970s and found refuge. A gripping tale of what life was like living under Afghan Communism and the Soviet occupation.


£25

Ghafour, Hamida

The Sleeping Buddha: The Story of Afghanistan through the Eyes of one Family

Paperback first UK edition from a Daily Telegraph reporter of Afghan origin who went to report from Afghanistan for one year and details the position of women.                                    

£15

5

Emadi Hafizullah

Politics of Development and Women in Afghanistan

Hardback Paragon press mint condition This is a product of several years research on Women and politics in Afghanistan. The author was inspired to write this book because he wanted to improve understanding about the active role played by women during the struggle against the Soviet occupation and women's struggle for a new democratic society in the future in Afghanistan. .Contains poems dedicated to the martyr Nahid Saeid Killed during anti Soviet Student demonstrations in Kabul during 1980.150 pages.
Fine 1993 First edition.                                                                                               

£35

6

Jalalzai, Musa Khan

Women Trafficking and Prostitution in Pakistan and Afghanistan

Hardback, Dua Publishers, 2002, mint with pictorial hardcover, pp210                         

£15

7

Lessing Doris

The Wind Blows Away our Words

Account of Lessing's trip to Pakistan during the 1980s and she speaks to women to learn about how the invasion and occupation of their country has effected them. She also details the role that women play against the occupation. Paperback 1987 Picador.                                     

£15

8

Saeed,Mohammed

Women in Afghanistan History

Stained on front cover otherwise a good pamphlet pp28. Published April 1995.                        

£10

9

Saeed Mohammed

A Case Study on Gender and Development in Balochistan and Afghanistan

Paperback on the position of women. Chapters include women in South Western Afghanistan, women and the civil war as well as returning home women's contribution to rehabilitation and reconstruction. There are case studies from Kandahar and refugee case studies from Balochistan. Published in Quetta Pakistan1996 first edition.

£12 SOLD

10

Tapper, Nancy

Bartered Brides

Sub title: Politics, Gender and Marriage in an Afghan Tribal Society, research by a Professor from the School of Oriental and African Studies(Univ of London) mint in dw first edition. A detailed study of marriage amongst the Pashtun nomad Maduzai sub tribe of the Durrani tribe. Cambridge Univ Press 1991.                 

£70